Disturbing Trends in Hockey East - Summer 2005
While your superiors enjoy the solitude and whistful santuary of our annual summer jaunt to the Greek Isles, it's quite therapeutic to return and catch up on current events on the homefront. At times, living the life of privilege while you reprobates wallow away in your jobs that involve the phrase "thank you, drive up", before going home and climbing into bed with a pugnacious wife can lead to moments of guilt from the
people you wish you were
.
Nonetheless, upon our arrival back at stately Pinhead Manor, I dispatched one of our minimum wage earning proles to fetch the last few weeks' worth of periodicals for our perusal on his way back from his night classes at U.Mass-Lowell. As we sat by the fire sipping our 1914 Pierre Ferrand Memoire Cognac, your superiors chortled at the news of the day.
Maine Man caught enjoying himself in New Hampshire Toilet
It's always captivating to keep up with the social activities among the raffish in the "land that time forgot" once hockey season is over. Although NASCAR is always a popular flavor among the knuckledragging white trash in New Hampshire, it seems playing "Marco Polo" in a pool full of undigested corn giblets and other human waste is also a popular summertime pastime in the Granite State.
The Maine man claims his name is Andy Dufresne.
In late June, Gary Moody, (possibly under the alias of Larry Moores), a 45 year-old man from Maine on probation after his sixth drunk driving conviction (moonshine related), left the state of Maine without permission. He found his way to Albany, New Hampshire, where he found it boisterous to climb into the waste tank of a pit toilet on US Forest Service property and let people do their business all over him.
Nauseating? Yes. Unfortunately, in rural wastelands such as these, toiling in a septic paradise is commonplace. He was discovered after a 14 year-old girl heard a noise coming from the tank, looked down and saw a face looking up at her. Your superiors can only surmise what pick-up line Moody, covered in human waste, used to woo the underage heroine.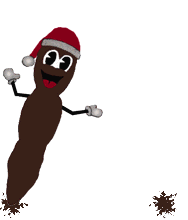 He also requested to be called Mr. Hanky and greeted police with a loud "Howdy HO!"
The Hallowed Halls and Hollow Heads of Cushing Academy
Speaking of Maine and New Hampshire, how could we not comment on the pathetic situation that developed over the summer involving yet another Cushing Academy hockey alum? This coming just months after another Cushing hockey alum, BU dunderhead Chris Bourque, left BU because his coloring-within-the-lines assignment at Kenmore State's College of Basic Studies was subpar.
This situation involves Keith Yandle, an allegedly talented recruit (read: bust)that chose to follow his brother Brian (a big fan of Pinhead Nation as evidenced by his attempted assault with a deadly weapon at the Whitt a few years ago) to waste 4 years at the University of New Hampshire. Yandle, upon his arrival in Titletown, USA, would quickly learn about UNH's annual hockey failures coinciding with the vernal equinox as well as inevitable future losses to Boston College in the postseason. But this is where the plot thickens. UNH, a school with absolutely no academic integrity whatsoever, did the unthinkable: They told Yandle he lacked the intellectual fortitude to attend the University of New Hampshire and pulled their scholarship offer right off the table. Again, your superiors are at a loss to imagine what one has to do to fail to earn admission to the University of New Hampshire.
So Yandle, finding himself without a collegiate home, did the one thing that came naturally: He traded in a career of NCAA tournament embarrassments for a career of NCAA violations and decided to attend the University of Maine. As dumbfounded as most of us were, in hindsight, this really shouldn't surprise anyone. The University of Maine is a school that is putting up a building to honor the most dishonorable and corrupt coach in college hockey history. U. Maine is the institution of "higher learning" that took a transfer like Brendan Walsh, a player kicked out of BU because of his affinity for Natty Light (in his defense, we surmise it goes well with the Indian food on the BU campus).
A completely irrelevant picture of Keith Johnson. Still, we wonder how he's behaving this summer now that "jennajennajenna2004" who, like his play on the ice, is almost legal.
BC coach accuses BU of gender discrimination
Here's another interesting story this summer that is just begging to be addressed by Pinhead Nation. Back in late May and early July, a story broke concerning a former Merrimack player named Michael Cox. Cox, a women's ice hockey coach at Boston College, applied for a similar position at Boston University. Your superiors surmise that Cox must have a soft spot in his heart for corpulent Middle-Eastern beauties who enjoy long walks on the beach and eating at the Y.
Regardless, this position would have been under new head coach of the BU women's program and former BU men's assistant coach Brian Durocher. Upon hearing the news that Durocher had hired two females for the assistant positions, Cox accused Durocher of discriminating against him because he was a male, contending that he was far more qualified for the job than the coaches hired.
Durocher's move to the women's team works out well because he's used to coaching BU players that play like girls.
After an exhaustive fact finding mission, the one stunning fact uncovered by Pinhead Nation was that Cox, a Merrimack grad, was actually gainfully employed in a job that didn't involve the sale of narcotics. Your superiors can only assume that Boston College offered Cox a job because of some sort of outreach program or due to the fact that someone lost a bet. If not for Cox' hockey background, we assume that his choice of employment would likely be at a Burger King, Wendy's, or some other 'culinary crackhouse'.
Overall, it's unlikely Cox will be able to prove his discrimination case against BU as apparently, they didn't want Cox in the position. The whole situation is ironic since most men at BU love Cox.
Speaking of Burger King…
Keith Foulke's comments anger BU grads everywhere.
This story put a target on the back of Keith Foulke the minute it came out of his mouth. Still, your superiors were amused with his comments considering they are so similar to our own. Here's what happened in case you were too busy working the overnight shift at the junkyard and missed it…
After pitching like garbage once again, the Fenway Faithful booed the closer off the field. In postgame comments, Foulke said this about being booed:
"I'm more embarrassed to walk into this locker room and look at the faces of my teammates than to walk out and see Johnny from Burger King booing me."
There's a reason why Burger King starts with "BU". This BU grad's job will be in peril when Chris Bourque's hockey career quickly follows his academic one.
In saying this, Foulke offended BU grads everywhere. Not only were the Burger King employees that graduated from BU offended, but it seems all of the BU grads working at fast food establishments were offended as well (ie - 95% of BU grads… the other 5% are fortunate and get coffee for BC grads with real jobs).
Shortly thereafter, Foulke was placed on the disabled list and hasn't been seen around Fenway since. Personally, we think the FBI was involved, putting him in a protection program and relocated him for his safety. There's no telling what an angry mob of BU students can do. Your superiors reminisce about the riots back in 1999 when local officials closed down Landsdowne Street clubs for a week while simultaneously prohibiting foreign languages from being spoken on "campus"? Like tryouts for cheerleaders back when BU had football, it was one ugly scene.
Quick hits:
- The Nation raises our flumes to hockey player Angelo Esposito, who snubbed both Boston University and UNH by choosing to play hockey in Canada rather spend four years playing in Boston College's wake. It's rare such intelligence is found in youth, but Esposito seems to have luminosity beyond his years.
- Keep an eye out in the coming weeks for Pinhead Nation's first ever Preseason All-Milk Carton Team selections. Despite several other prognostications, your superiors will educate you on Hockey East's most overrated players destined to fail in 2005-2006.
Enjoy the rest of summer and do your best to keep your wretched families cool. If it's any consolation to you BU grads working in the hot kitchens, Maine grads on the "dead beat dad" list or former UMass valedictorians currently pushing tin for the local trash pick-up service, it's gets hot at the country club, too. Your superiors feel your pain.
Collar Up
-MAV