Mailbag Friday, 4/29
Happy Friday everyone and welcome to another installment of Pinhead Nation's "Mailbag Friday". Friday is the day when you troglodytes finish your work week, put your paper-hats and ditch-digging shovels away, and crack open a cold Natural Light. As you know by now, every Friday, your superiors respond to the facile questions or comments that are taking up space in your ephemeral minds. If you would like a superior group of people to answer your concerns, please drop us a note at 'mailbag@pinheadnation.com'. If you're fortunate, we will respond to your meager inquiry.
Without further adieu, let's see what is inside this week's mailbag.
Q - Scott M (Exeter, NH). Guys, I just noticed that ebay has a U.Maine "Keith Johnson" game-worn jersey for bid. First, do you know if his 13-year old girlfriend is sold separately or does she come with the jersey? Second, how much do you think this will go for? It's a shame to see someone lose their shanty in Maine to buy the jersey of an alleged pedophile. Lastly, I think you guys should buy it, sew a collar onto this sucker and wear it collar up at the next Maine vs. BC game. Great site and thanks in advance for answering my question.
A - Scott, Thanks for alerting us to this jersey going up for sale. I'm sure whomever wins this jersey will immediately be placed on the sex-offender registry. I hardly think that his "girlfriend" is included with this purchase. As I understand it, women up in Maine can be purchased with cattle or "magic beans", so I can't imagine someone actually spending money to get her. Regarding the final cost, I'm sure some inbred Maine resident will trade in his tractor to secure such a piece of UMaine hockey history.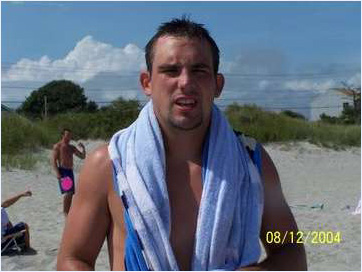 Maine forward Keith Johnson will gladly give anyone under the age of 16 the shirt off his back
Q - Justin B (Denver, CO). Hey Pinhead Nation! After capturing our seventh NCAA hockey championship (just a couple of months after capturing our 18th national skiing championship), the Pio Nation is heading up to Aspen to celebrate our ice and snow superiority. Although we are too modest to call ourselves "collar up", we invite you to our chalet to assist us in popping the tops of our fresh new "bubbly".
A- Justin, first of all, congratulations on Denver U's championship, it was certainly earned and your superiors gladly flip our collars up in their honor. Thanks for the invite to your chalet in Aspen, as it turns out, your superiors own a suite at the Hotel Jerome on East Main Street and will be gracing Aspen with our presence this fall. Perhaps we can arrange a belated celebration when we arrive and toast our flumes to the current 'maroon and gold millennium'.
The Pinhead Nation Suite at the Hotel Jerome in Aspen, CO is a place where your superiors can let our collars down while maintaining elite collar-up status
Q - Paul M. (Worthington, OH). Hi guys, first I miss you guys on USCHO and I hope they will allow you back. Speaking of USCHO, I have a hypothetical question for you. If you were trapped in a car, would you rather be trapped with comedienne Paula Poundstone or USCHO board admin Paula W.? I know it's a horrible choice, but I was curious what a "superior being" would choose.
A - Paul, are you a sadist? Anyhow, regarding your "hypothetical question", if suicide was not an option, I guess it would depend on my current age. Since Paula Poundstone was recently accused of sexually assaulting a 14 year-old child, I would probably choose Paula W. if I were still in my young and formulative years. Being digitally manipulated by a middle-aged comedienne is hardly on my "to do" list. On the other hand, if I was a child and trapped in a car with Paula W., there's a pretty good chance she would swallow me whole (after suspending me for no reason). Tough one, Paul. I guess I would choose Poundstone. Being eaten alive is a fate I wouldn't wish on even the lowest collar-down wretch.
Being trapped in a car with Paula W. is considered 'cruel and unusual punishment' in 49 of the 50 U.S. States (West Virginia).
Well, that's going to do it for another weekly installment of Pinhead Nation's "Mailbag".
The people you wish you were
thank the social derelicts who sent us questions this week and invite you to drop us a line. Who knows, we may actually answer your inquiry and give you something to live for.
Collar Up.
- DW